Lyndon Steel: Member Spotlight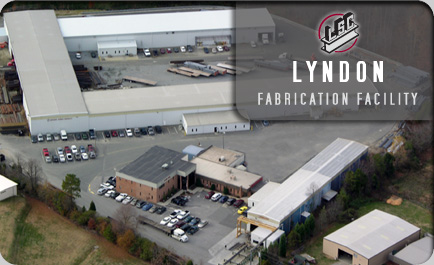 Lyndon Steel has been meeting the needs of the steel industry since 1977, offering high quality steel at competitive pricing, with on-time delivery. Lyndon understands what it takes to complete a project successfully and continuously provides their customers with an advanced engineering department, accurate fabrication, experienced project management, reliable erection, and more. Located in Winston-Salem, NC, Lyndon Steel is reliable, experienced and gets the job done right. Read more about them below!
About Lyndon Steel
With over 200,000 square feet of fabrication facilities, Lyndon Steel produces over 40,000 tons of fabricated steel per year in one of their three plants. Each facility contains CNC automated equipment, plus their engineering department is equipped with SDS2 and CAD applications. Using this cutting edge technology allows them to support fast-track construction. They also have a wholly owned subsidiary called Winston Steel LLC. Their focus is on the fabrication and installation of stairs and railing for commercial and residential buildings. This partnership allows the customer a single source contact for all their structural and miscellaneous project needs.
Services
Lyndon Steel provides quality steel and on time delivery from coast to coast. They serve industries including commercial, medical, education, industrial, government, religious and retail. And they provide services such as design build, BIM, erection, installation, hands-on and on-site project management, 9-digit bonding capacity and LEED certified associates.
Engineering
Lyndon's engineering department boasts a full staff of experienced and dedicated engineers, detail coordinators and checkers. Their engineering manager is a licensed professional engineer and provides oversight in connection design and shop drawing production. The detailers are responsible for the technical aspects of the project. This includes quality control during the shop drawing phase and working side by side with the project manager. High level department standards and processes ensure that every completed project exceeds the customer's expectations.
Production
Lyndon's AISC Certified production department is committed to a high-quality product and on-time deliveries. They employ six full-time AWS Certified Welding Inspectors and six full-time Quality Control Inspectors who inspect their product 100%. With 65 certified welders, Lyndon is ready for any project, large or small. They have three state of the art CNC punch/saw lines, two CNC drill/saw lines, three CNC angle/plate lines and one horizontal milling machine. Their ability to create downloads for their CNC equipment directly from detail drawings maximizes the accuracy in the shops.
Product Management
Lyndon Steel offers a project management team that allows the customer to enjoy one dedicated contact, constant communication and overall coordination of the project. Their team is comprised of experienced professionals that provide services including overall coordination and responsibility of the project; coordination of all deliveries; onsite construction meetings; responsibility for onsite personnel; and coordination of joist, deck and grating drawings and deliveries. Lyndon offers the benefit of a personal, on-site contact during all steps of the project!
Interested in using Lyndon Steel for your next project? Contact them today!