Rampart Steel: Steel Plus Member Spotlight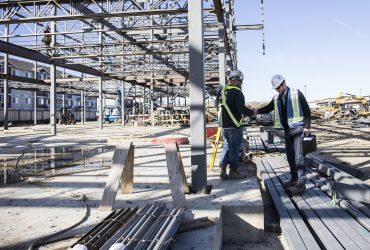 Serving Edmonton, Alberta for over 30 years, Rampart Steel Ltd offers professional (detailing) design, fabrication, and erection of structural steel and miscellaneous iron. They're committed to supplying the highest quality product, on schedule and at reasonable prices. Their portfolio includes buildings such as schools, sports complexes, police stations, office buildings, grocery stores and strip malls; oil sites and pipe farms; and residential projects such as high-end residential structures and custom architectural features. With a robust list of services, Rampart Steel is the go-to steel and construction company within the Edmonton area.
About Rampart Steel
Rampart Steel is a family-owned and operated business committed to the highest level of structural integrity of new industrial, commercial, institutional, residential and renovated buildings. Throughout their run, they've fostered high-quality client relationships and have become the most trusted leader in detailing and design, fabrication, and erection of structural steel and miscellaneous iron. Using cutting-edge technologies and the latest top techniques, they strive to make sure that their jobs are completed on-time and on-budget. Rampart offers in-house detailing services, fabrication, and installation, and their erecting crews are highly skilled, professional individuals that work their hardest to exceed your expectations. Rampart's commitment to creating unique products for their clients ensures they add value to every project they touch. 
Rampart's Services
Drafting and Design
With a team of in-house drafting experts, Rampart manages projects from the very beginning through to completion. Their in-house detailing services allow Rampart to streamline the construction process, creating efficient communication between general contractors, the fabrication shop, erecting crews, and management. This ensures projects are completed on-time and on-budget.
Custom Metal Fabrication
Rampart handles projects from structural steel in sports complexes, high rises, commercial retail units and housing projects with Habitat for Humanity. Institutional construction, like schools and hospitals, fire halls, and police stations are also their specialty. They also fabricate items such as handrails, interior beams and other custom architectural features.
Installation 
Highly skilled and always professional, Rampart's erecting crews ensure commitment to each project from start to finish. They're a long time member of the Local 720 union, who has a reputation for having reliable, high quality, and safety-oriented workers. For the success of any project, a trusted, knowledgeable erecting team is key. A good team is essential both for the structural steel portion of the job as well as the many subs who rely on the steel framework of a building to complete their work.
If you're located in Edmonton, Alberta and are in need of their services, get in touch with Rampart Steel today for your next project!
If you are in the Steel and Metal industry and want to learn more about the Steel Plus Network and how to become a member, visit our website.