Steel Plus Network Proud To Announce New Supplier Partnership: WURTH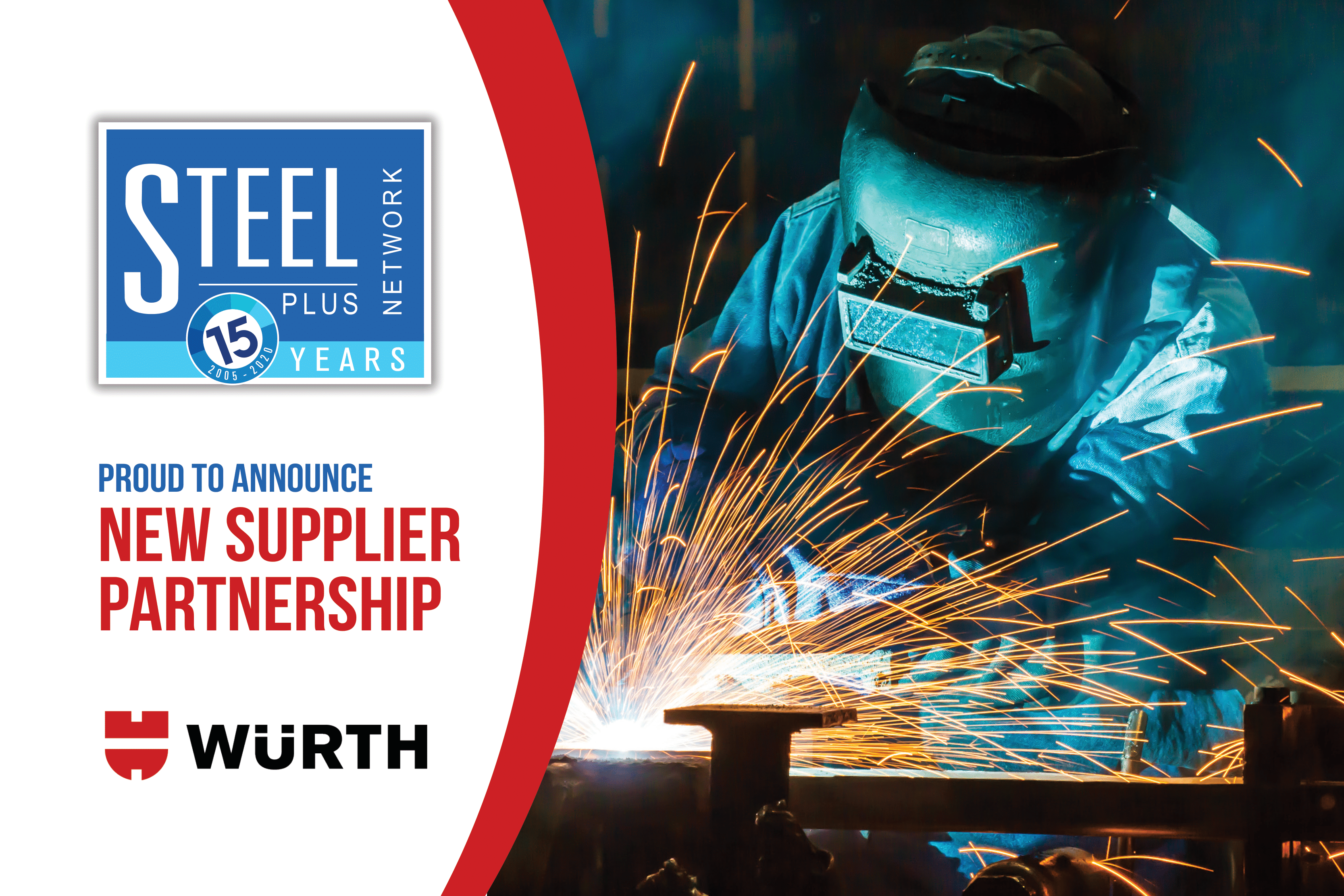 TRURO, N.S., Oct. 26, 2020 – Steel Plus Network, North America's premier steel buying group welcomes Wurth Canada Limited as a new supplier for members across Canada and the United States. The SPN and Wurth partnership brings together a premier supplier of fasteners, electrical connectors, tools, and a complete line of branded chemicals with North America's premier structural steel fabricator network.
Colleen Doucette, President of Steel Plus Network agrees: "Wurth's extraordinary product line and history of exceptional service are exactly what we look for in a premier supplier member. Our structural steel fabricators will benefit from the expertise, knowledge, and dedication of their sales team, in addition to exclusive supplier offers. It's a win-win."
Goran Abramovic, VP of Marketing, Product & Communications states: "We are excited to become a trusted partner with Steel Plus Network. This new relationship is an ideal one as it aligns our premium products to the large network of members who need them to take care of their everyday business needs."
We can identify indirect spending and put in place processes to manage costs effectively and efficiently
We can help to gain the visibility SPN and its network need to manage consumption and control costs with our various solutions including:

Our VMI (Vendor Managed Inventory) program
Inventory and profit Management tool software (SIS-X)
Organizational Systems (ORSY) which offers complete storage and inventory control systems, designed and installed by Wurth's trained professionals for our customers' needs. With ORSY there is less time required for ordering regularly stocked items, allowing more time for our customers' special requirements
Dedicated sales consultants
As North America's premier steel buying group, SPN provides its members with exclusive access to the following services:
Rebate Programs
SPN negotiates lucrative rebate programs with premier supplier members based on group volume.
Discount Programs
SPN's premier supplier members offer SPN members lucrative discounts on products and services.
Networking Opportunities
SPN provides numerous networking opportunities for members and suppliers that allow them to discuss industry issues and best practices in an exclusive setting.
About Wurth Canada:
Wurth Canada, part of the Wurth Group, is the world's largest privately held assembly company. We love selling and inspiring our customers, and we are proud to be the partner of choice to the Automotive, Body Shop, Trucking, M.R.O. and Construction trades. With over 14,000 stock items in our two distribution centers in Guelph, ON and Acheson, AB, we supply industrial and shop supplies including fasteners, chemicals, material processing supplies, tools, personal protective equipment, and much more. We serve our customers through various sales channels, including outside sales, inside sales, and an online platform.
Wurth, with over 78,500 employees worldwide, has the largest permanently employed global sales force in the world. Wurth Canada is proud to service our customers with over 475 sales reps across the nation. Visit www.wurth.ca to find out how we make your business our priority.
Company Contacts:
Goran Abramovic
Vice President of Marketing, Product & Communications
Wurth Canada Limited
gabramovic@wurth.ca