We are pleased to announce the winner of the 2019 Project of the Year (Large) award…..
Residential Tower at Bulfinch Crossing – "The Sudbury" Building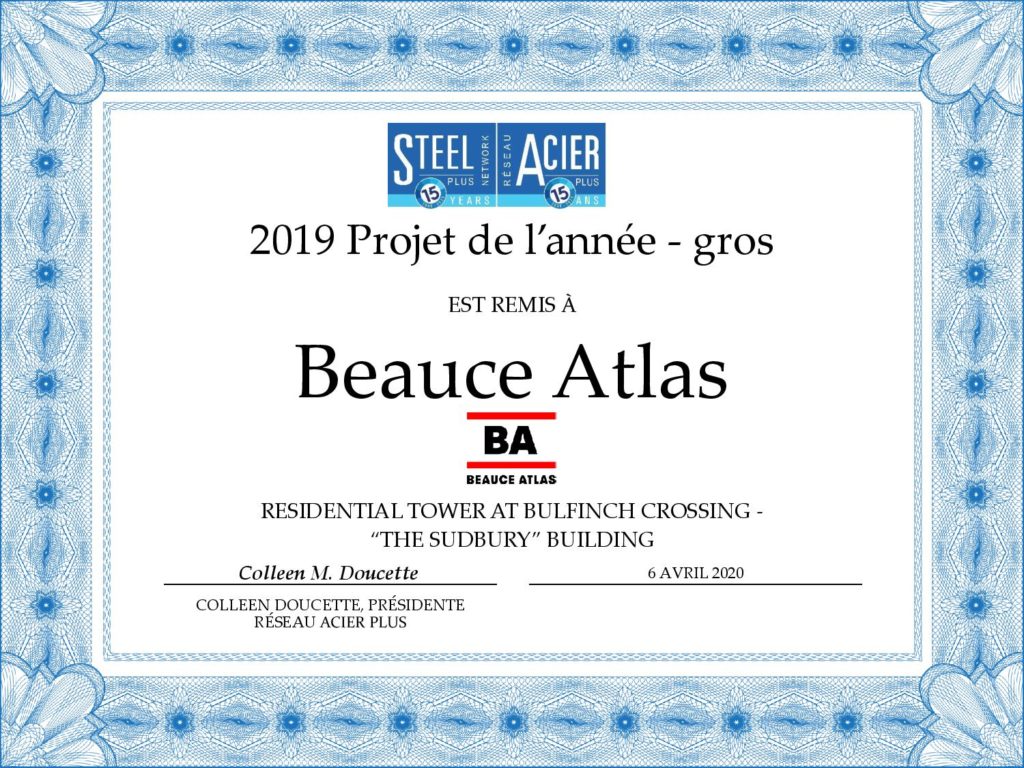 Bulfinch Crossing is a dramatic and unprecedented 4.8-acre redevelopment project in the center of Downtown Boston. Upon completion, six new high-rise and mid-rise buildings will be offering over 1 million square feet of office space, more than 800 residential units, and a vibrant net-zero energy pedestrian public square to the population of Boston. Over the past two years, the direct involvement of "Les Constructions Beauce Atlas Inc." to this massive project was for the construction of "The Sudbury" building, which is a brand new forty-five story tall tower with a height of 480 feet, making it one of the highest residential towers of Boston. It consists of 368 apartment units and 55 for-sale condominiums.
For this specific project, "Les Constructions Beauce Atlas Inc." had the responsibility of:
Designing (engineering) the connections and detailing the structural steel framing of this building;
In-shop fabrication of the steel framing, which represented around eight hundred and fifty-two (852) tons of steel;
Surface preparation, hot-dip galvanizing and final protective coating of the steel;
Erection of the steel framing on site; and
Transportation to site.
Specific location and requirements/characteristics of the building posed several challenges to their team. More precisely, the main elements of complexity were:
Heavy Shaped Material to be encased in concrete:
Most of the steel framing consisted of heavy shaped material to be ultimately encased in concrete on site. Almost half of the fabricated steel members were made of welded wide-flange shapes (WWF), with plates going up to eight inches thick. Heavy shaped W beams up to W14x730 were also used for this project.
Since most of the framing was to be encased in concrete, more than nineteen thousand shear connectors (studs) were also required to be welded on the steel structure.
Outside pool at ninth floor:
Presence of a future outside pool at the ninth floor required that the steel framing supporting it be made of massive cantilever plate girders weighing up to 56,000 lbs.
The erection on site of that specific structure required the street below to be closed for two consecutive Sundays, in order to allow first, the mobilization of a mobile 500-ton crane, and later the moving of those plate girders from the ground level up to the ninth floor.
Galvanized structure at rooftop:
At rooftop, a light-exposed steel structure mostly made of HSS tubes was also installed. That structure needed to be entirely hot-dip galvanized in order to properly protect it against corrosion.
Erection of this structure represented an important challenge for their team. Workers working in that area were regularly exposed to high and even gusting winds.
Logistics for deliveries to site:
The fact that the job site was located right in Downtown Boston posed an important challenge for deliveries for reasons that you can easily imagine, particularly for heavy loads that were requiring escorts and special permits.
There were very minimal storage areas on-site so almost all steel members had to be picked up from the arriving truck trailers using the tower crane and be brought up directly to the work areas. Therefore, fabrication, loading, crane management on-site and transportation logistics had to be carefully planned and coordinated.
Beauce Atlas would like to thank the following members of Steel Plus Network, who helped make this project a success:
Acier Leroux
Acier Pacifique
AS Bond 003
Boulons Plus
Canam (deck)
Corbec
Fastenal
Messer
Peddinghaus
Praxair
Thank you to all who submitted their projects for consideration
Benson Steel – L. F. Wade International Airport, Bermuda
Lainco – Boston Skating Club