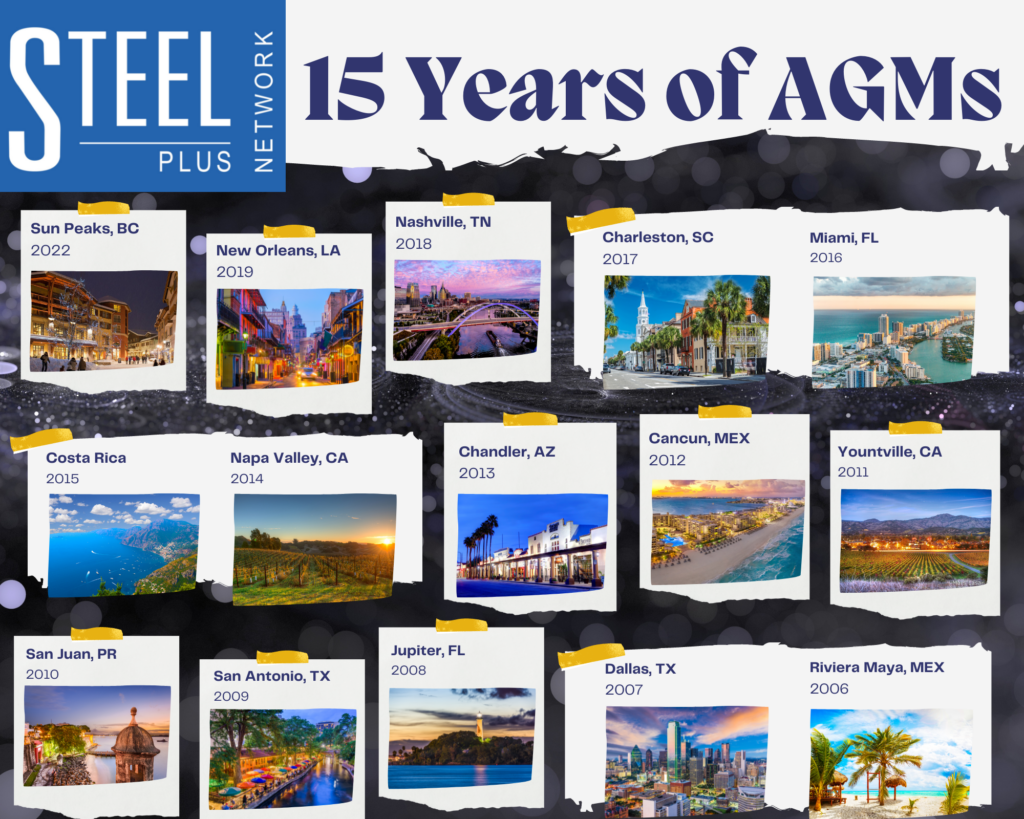 Steel Plus Network has hosted some fabulous Annual General Meeting's over the years. We have travelled to gorgeous beach retreats, bustling major cities, blissful wine country resorts, and destinations rich with history. In 2022, we're heading west to Sun Peaks, BC. Our members are excited to travel to the west coast to ski, snowboard, travel by sleigh, and even party at a luau!
Steel Plus Network is known for the exceptional, engaging events we host during our conventions. We've escaped from Mystère Mansion escape rooms in New Orleans, toured gorgeous wineries in Napa Valley, lounged by the ocean in Costa Rica, and line-danced in Nashville!
Steel Plus Network members have raved about our past conventions, sharing that: "resorts are world class", "events and excursions are a blast", and "meetings are fun and engaging"! We ensure your time is well spent by bringing in expert guest speakers and hosting immersive team building activities.
In 2023, we're crossing the Atlantic and travelling to Belgium for our first AGM in Europe! We'll return to Europe when we travel to Verona, Italy (the setting of Romeo and Juliette) for our 2026 AGM. In between our European destinations, we'll be heading to Halifax, Canada in 2024, and Del Mar, California in 2025, which rounds out the next five years.
Don't want to miss out on our upcoming AGM's? Learn more about SPN's exciting membership opportunities and join us in Belgium in 2023. Or maybe even sooner in Sun Peaks, British Columbia!