A closer look at Steel Plus Network's preferred supplier Fastenal's NASCAR involvement and the power of presence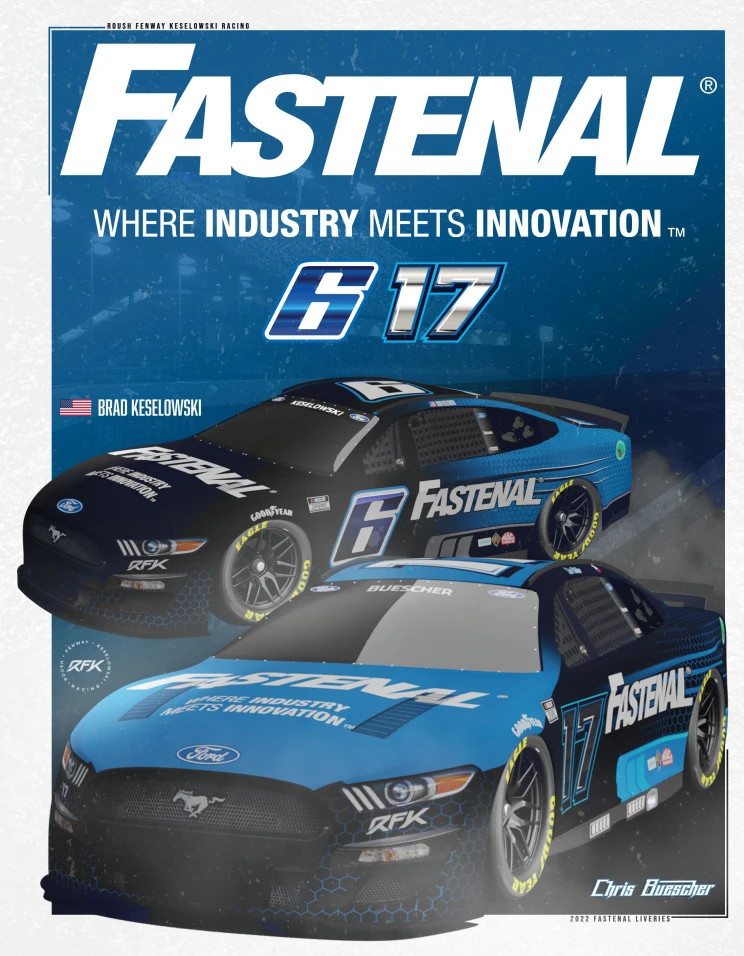 Steel Plus Network's preferred supplier Fastenal is an innovator on and off the racetrack. In 2022, Fastenal Racing will celebrate its fourteenth year as a NASCAR sponsor. Starting in the Truck Series and now as a proud sponsor of the Roush-Fenway Racing No. 17 Ford Mustang NASCAR CUP Series, racing has become a huge part of what Fastenal does.
Fastenal first opened its doors in 1967 as a small fastener distributor in the United States. Over the last fifty years, they have grown to be one of the largest distributors of solutions, industrial services, expertise, and manufacturing services in North America. As an industrial supplier of a multitude of inventory products, Fastenal values people, community, and sustainability. So, where does NASCAR fit into their business model?
Fastenal Racings' slogan 'Where Industry Meets Innovation' illustrates their brand to a tee. Off the track, Fastenal lends supply chain expertise to the team to streamline their production of precision stock cars so the racing team can focus on their strengths, building cars, racing, and competing for championships.
In 2020 Fastenal celebrated 10 years of partnership with Roush-Fenway Racing. The No. 17 Fastenal Ford is now an on-track staple of the NASCAR Cup Series. In May 2021, the Fastenal and Roush-Fenway Racing team announced the extension of their contract with driver Chris Buescher for the next several years. This announcement highlights Fastenal's investment in their partnership with Roush-Fenway racing and commitment to NASCAR.
Fastenal's expertise on and off the track is a winning combination.
"Fastenal has been a driving force behind our organization for more than a decade now," shares Roush-Fenway Racing president Steve Newmark. Newmark commends Fastenal on their commitment to the sport, team, and future success, "…we're excited to show the world our first scheme on a Next-Gen car in a season that will have an unprecedented energy and attention with so many positive changes across the NASCAR landscape."

Roush-Fenway Racing president, Steve Newmark.
Fastenal is a preferred North American supplier to all SPN members and SPN members benefit from a healthy rebate program from Fastenal annually. Jeff Bas of Victoria Steel, an SPN member in Windsor, Ontario, shares why they prefer to purchase from Fastenal, "Fastenal's customer service is incredibly attentive and friendly. They know what you're looking for and take care of customers by keeping the products we use in stock. Fastenal also has storefronts (alongside online shopping) which I prefer. The human element is nice. I get to go in, have a conversation with a representative, and have the product explained to me in person. Fastenal's products and service are fantastic."
Fastenal is an industry leader. Their team credits innovative supply solutions and services as the key to their success. Fastenal recently introduced FAST Solutions Vending, a vending machine that holds their products to streamline productivity in their customer's workspaces. Fastenal provides the vending machines free of charge and replenishes supplies as needed. With this new product and service, Fastenal allows its customers to access the products they need at the press of a button. Fastenal Customer Solutions Consultant Kara Delewski highlights the benefits of installing a Fastenal vending machine, "Vending machines are truly just machines; the real savings are achieved via the software and data that vending is able to produce. With accurate and measurable data, you can create meaningful changes." Fastenal not only seeks to create valuable products, but they also want their customers to work more efficiently. Their product and service launches reflect this.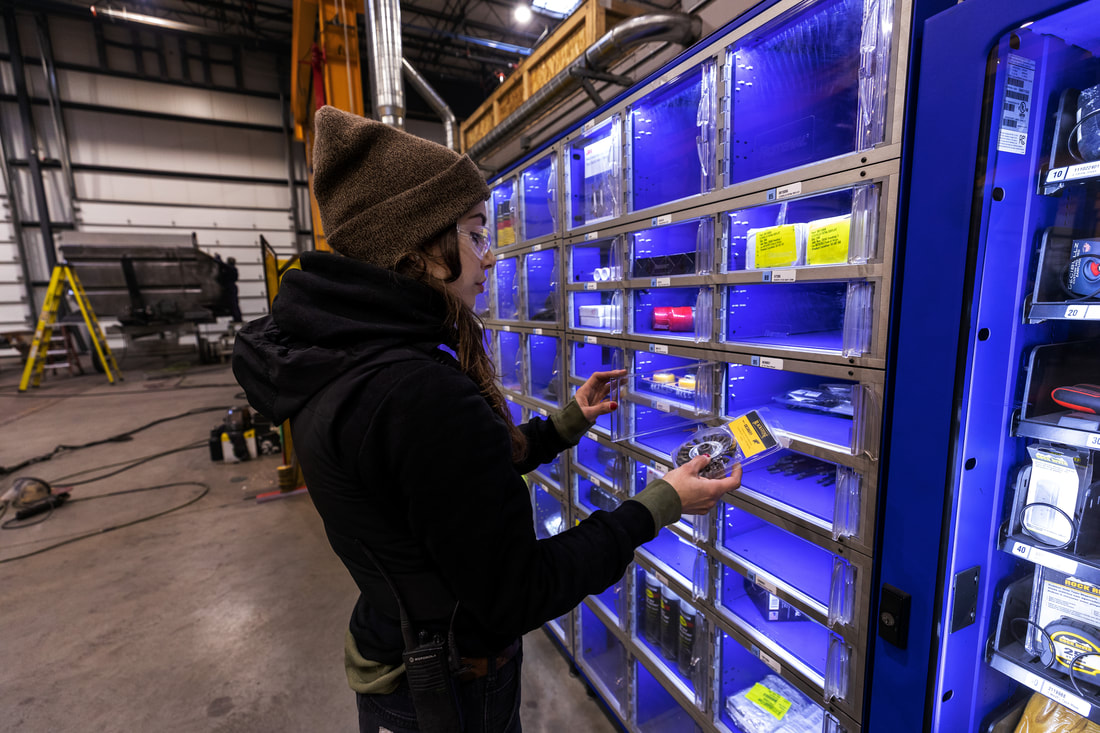 "Marid Industries (a proud SPN member from Windsor Junction, Nova Scotia) currently uses Fastenal products and services because they are competitive, and their large distribution network saves us time sourcing products ourselves. The Fastenal Vending program at Marid Industries is expanding to serve all our employees in the shops and in the field providing a consistent product line and reduced consumable processing."

Neil MacKinnon, Purchasing Inventory/Other, Marid Industries.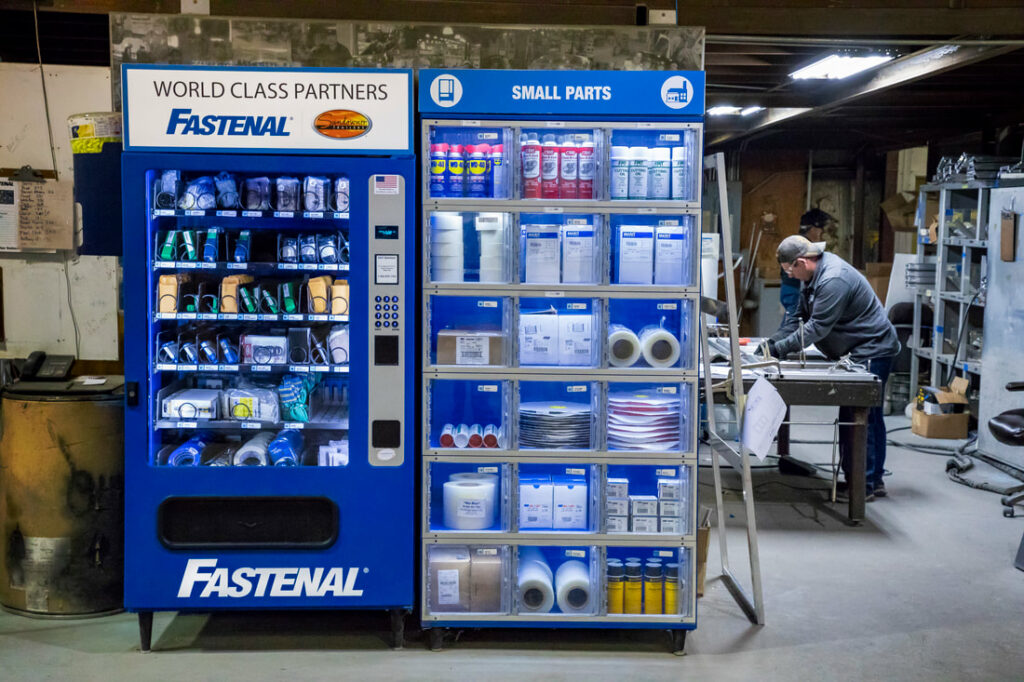 Fastenal believes in the power of presence. The larger their presence (both in terms of proximity and brand awareness) the better they can reach and serve their customers. Fastenal's partnership with Roush-Fenway racing and commitment to NASCAR highlights the benefits of diverse marketing. Through their involvement with NASCAR, Fastenal has increased their audience and made their brand even more of a household name. This is the benefit of brand awareness; the more people that recognize and identify with your brand, the more business you will acquire. Fastenal's partnerships illustrate this.
"A good partnership is one where continuous improvement exists and both companies are able to clearly see results."

Heath Hazard, VP of Sales, Fastenal
Fastenal consistently demonstrates their ability to create innovative and valuable products. This is the driving force behind their years of success.
Fastenal and Roush-Fenway racing have gotten off to a great start in the 2022 NASCAR season, with Chris Buescher and teammate Brad Keselowski bringing home a win each in February. We can't wait to cheer for Fastenal and Roush-Fenway Racing on and off the track in 2022! We are proud to have Fastenal as a preferred supplier for our North American membership.