Les Structures CDL – A partnership you can build on!
Since 1983, Les Structures CDL Inc. has been a business partner recognized for the quality and reliability of its products and employees. This recognition is the fruit of their effort to meet client's expectations. Les Structures CDL takes every mandate it is given at heart, and carries it out as quickly as possible.
Specialized in the fabrication and installation of structural steelwork, Les Structures CDL is proud to put the expertise of their experienced team at your disposal. Whether for industrial, commercial, multi-residential or institutional projects, Les Structures CDL can provide you with the best possible help.
The letters "CDL" is a daily reminder of their mission:
Client satisfaction
Dependability
On-time DeLivery
ESTIMATING
The work of Les Structures CDL Estimating Team is not limited to cost assessments. They also ensure that projects are closely monitored, and are in constant communication with their clients.
Your assessment requests are processed rapidly. The company objective is to provide precise estimates in a straightforward manner. This makes it much easier for their clients to evaluate their own costs.
CDL specialties
Estimation
Design & Engineering
Shop drawings
Fabrication
Erection
DETAILING
The Structures CDL Detailing Team draws plans that wholly comply with applicable standards and specifications. Whether simple or complex projects, they have the reputation of providing shop drawings of the utmost precision, and, of course, they scrupulously abide by the deadlines given.
FABRICATION
In order to maintain the confidence of their clients and meet their requirements, the work is planned and carried out in a highly rigorous manner. Their production follow-up process is managed through the Mobilis software.
You can count on a production team consisting of approximately 30 employees, divided into two shifts. Proud and motivated, they work in a 22 000-square-foot factory, and their skills allow them to carry out projects of any scale.
Les Structures CDL operates six overhead cranes that can be joined if need be. These overhead cranes, which have a capacity of eight to ten tonnes each, combined with our specialized equipment enable them to carry out the work required for your projects.
SHIPPING
Les Structures CDL are currently implementing the C-TPAT security program, and are able to deliver anywhere in Canada and the United States.
They deal with accredited, highly-dependable transportation companies. These partners share their concern for on-time delivery and support their philosophy of trust and consideration for their clients.
ERECTION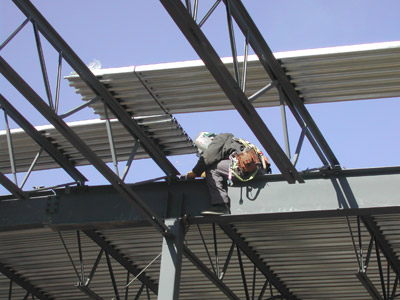 Les Structures CDL are renowned for their quick and excellent service. They are aware that each project is unique.
That is why their project managers supervise each step of the work until it has been completed. Their erectors are known for their skills and professionalism.
Their constant cooperation helps them meet your deadlines.
CONTACT LES STRUCTURES CDL TODAY!
2045 – 4e rue, Levis, QC
Phone: 418-839-1421
Email: gilles.brisson@structurescdl.com