Pittsburgh Steel Group: Member Spotlight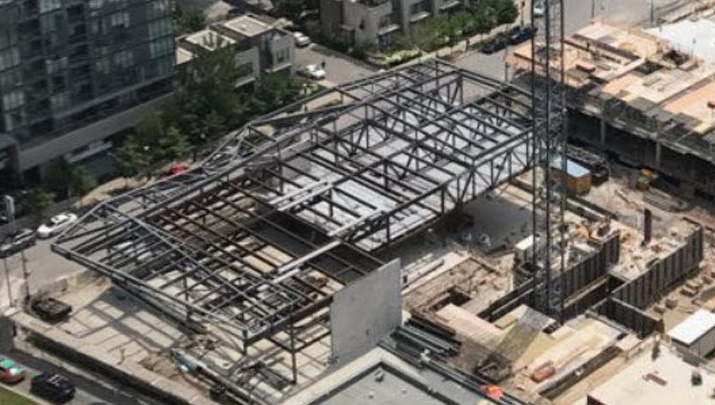 Located in Mississauga, Ontario, Pittsburgh Steel Group is a structural steel manufacturer that was founded in 2004. Pittsburgh Steel offers everything from project planning, to the fabrication and assembly of structural steel, to delivery and final implementation. Working on numerous jobs for a range of clients, they've completed projects such as the Sobey's Distribution Center in Vaughn, the Amhadiyya Muslim Mosque, St. Stefan Serbian Church in Ottawa and Canoe Landing Centre in Toronto (photo). Take a look at everything Pittsburgh Steel Group has to offer.
About Pittsburgh Steel Group
Pittsburgh Steel Group is your number one source for structural steel fabrication. On top of their specialty of structural steel fabrication, they also fabricate rails, landings, stairs and other miscellaneous steel fixtures for commercial and residential development. They've successfully completed many projects for developers, government agencies and institutions, and they work closely with their design team to make sure their customers are always satisfied.
Pittsburgh Steel Group's Services 
Project Management
Every project at Pittsburgh Steel Group is assigned a project manager as a contact for every stage of the project, from engineering and fabrication to erection to invoicing and accounting. The project manager oversees all aspects of the job to ensure full satisfaction of the project, and to make sure it's completed on time and on budget.
Project Detailing
Pittsburgh Steel Group has an in-house detailing department, providing a sense of urgency, commitment to schedules and on-time delivery. All detailing and drafting is executed on an integrated 3D modeling SDS 2 software program. They provide 3D modeling on all projects, which has minimized errors and double entry throughout their production process, as well as allowed for stronger control over project budgets.
Connection Design
With the most experienced staff of licensed engineers, Pittsburgh Steel Group is dedicated to connection design, which is a critical part of structural steel projects. Engineers use the latest version of SDS-2 3D modeling software to design an unlimited range of connection design solutions accurately and efficiently. Pittsburgh Steel works with the engineering department from beginning to end to ensure every project is a success.
Fabrication and Assembly
Pittsburgh Steel Group facility is equipped with the latest computer-aiding detailing and fabrication systems, allowing information to be electronically processed from engineering and drafting directly to the shop floor. The information contains detail part marks, exact dimensions and weld symbols used for final fabrication. This process requires skilled fitters and welders, many of which have been working with Pittsburgh Steel Group from the start.
Sub-Contract Erection
To ensure the best possible service, Pittsburgh Steel Group uses union certified Ironworkers Erectors, equipped with the latest safety equipment to complete any job at an accelerated schedule at the highest level of safety. The project manager makes multiple visits to the site with the erector to identify any on-site issues that may come up. They work together as a team to ensure all projects are completed to their customer's satisfaction!
Have a structural steel project in mind? Contact Pittsburgh Steel Group today!