Whitemud Ironworks Group: Member Spotlight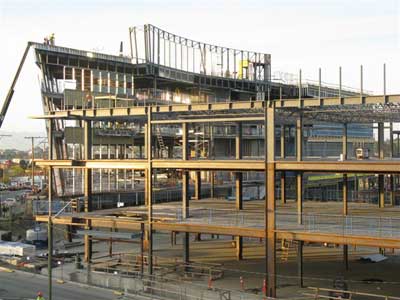 With over 20 years of experience in the structural steel industry, Whitemud Ironworks Group is known for meeting demanding schedules with high quality and safety performance. Specializing in structural and miscellaneous steel projects, Whitemud is positioned to serve the Western Canada and Territories market with three fabrication facilities totalling over 100 sq ft and construction crews based out of British Columbia and Alberta. They're recognized in the industry as a company that gets the job done safely, and has the resources to take on any commercial or institutional project. Ready to learn more about this awesome company? We're letting you in on everything Whitemud Ironworks Group!
About Whitemud Ironworks Group
With three well equipped facilities in Alberta and British Columbia, Whitemud Ironworks is a fully integrated steel fabricator and erector. They specialize in turnkey structural and miscellaneous steel projects, and are fully integrated, meaning they have control over all resources required to estimate, manage, design, fabricate and construct steel structures and equipment. The core of their company is their team of skillful and experienced members who can successfully complete any project.
Whitemud has full time safety and quality personnel providing services to all divisions of their company. They're proud to invest in health and safety resources and employee training, which has resulted in them being below the industry average in all their field divisions.
Services and Projects
Fabrication Services
Whitemud's fabrication services include structural steel, large span trusses, steel wall systems, equipment fabrication, miscellaneous steel and more. With three fabrication facilities located in Edmonton, Alberta and Surrey, British Columbia, they're well-positioned and proud to serve the Western Canada and Territories market. They use the latest CNC (computer numerical control) equipment, and with their diligent quality standards, their customers can feel confident they'll get a quality project on time! 
Construction Services
Whitemud's construction crews are consistently rated above 3.5 on a 4 point scale. They're known for providing safe, high quality and on time installations. Operating between 8 to 12 construction projects at any given time, Whitemud has the experience, leadership and resources to handle a wide array of projects.
All of their structural steel construction is done with engineered erection plans and utilizes Whitemud custom designed temporary bracing systems to ensure safe, on time construction. They provide construction services such as structural steel and miscellaneous steel installation, steel decking installation, bridge installation and repair, steel demolition and equipment installation.
Estimating, Engineering and Drafting Services
Whitemud employs a highly skilled estimating, engineering and drafting group. With over 35 employees, they utilize industry leading engineering and steel design 3-D software to provide the quality and responsiveness celebrated by their clients.
Their automated fabrication facilities utilize CNC files from their 3D design software to improve quality and reduce fabrication time. Under this umbrella, they provide services including budget estimates and 3-D estimate models, design build services, steel connection design, engineered erection plans, structural steel drawings with 3-D modeling software, and so much more!
If you're looking for a fully equipped steel fabricator and erector, Whitemud Ironworks may be just the company for you! Get in touch today to see how they can help you with your next project!